As a new homeschooler (or if finances are an issue), commercially produced planners can seem overwhelming. If you are already in information overload, planners may be reassuring. They may also be intimidating if you are organizationally challenged or need time to figure out your own path. Setting up your own homeschool planner may be more appealing while you find your 'homeschooling legs'.
Keeping a plan book or journal can be as simple as purchasing a spiral bound notebook or journal and entering the information specific to your child's school day. Let's look at how our fictional student, Eve Adam's, mom maintains her plan book.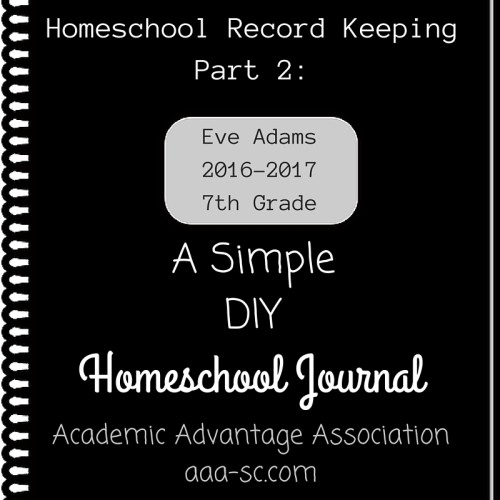 On the cover (or 1st page) of a simple spiral bound notebook, she recorded the name of the student whose educational plans will be recorded along with the academic year and Eve's grade level.
On the next page, she records the curriculum and resources for each subject:
Subject & Curriculum
Language Arts
Daily Grams 7
Writers in Residence Vol. 1
Selected Novels from suggested reading lists noted in daily plans and book list
Math
Horizons Pre-Algebra
Science
Masterbooks Anatomy and Physiology for Junior High
History
Selected living history books  re Civil WAr noted in daily plans and book list
Art
Homeschool art lessons at the community center,  Tuesday from 10a – 12n
PE
Soccer team practice and games x 6 hrs a week, April 1 – October 15 (M, Thur, Sat)
**Leave several spaces between each entry so you can add new resources or activities if you change or add things mid-year. Set aside 2 pages to record curriculum and resource information.
Now, create logs for your reading list:
Eve's mom has begun to record her reading list.
Title                                                  Author               # Pages           Date                  Subject
The Red Badge of Courage           S. Crane               99               Sept 10             literature
Abraham Lincoln's World            G. Foster             376               Jan 10             history
Rosa Parks  (CD)                            D. Brinkley         7 hrs           Feb 15               history
As you see from the list, Eve is studying the Civil War for history.  She read a book related to Civil War history for both literature and history. She also listened to a book on CD about the life Rosa Parks during February for black history month. They recorded the date Eve completed the books in the date column. Eve's mom will continue to record each book Eve reads or listens to on CD or iTunes for the entire academic year as noted above.
Eve's family will make lots of use of audiobooks while they are riding for errands, trips to grandma's and for vacation, and on sick days, etc. The latter is a great way to 'have school' when a child (or mom)  is feverish and unable to do a lot of work.
Next, create pages for DVD's and website resources:
In Eve's case, she has watched a YouTube video review of math to prep for Pre-Algebra. She also watched a DVD they got from the library.
Resource                    Author/Source                                            Time               Subject                   Date
Quick Prep Math Review  – Video Math Tutor (YouTube)    25 min.            Math                    August 20
The Human Body – National Geographic Classics (DVD)     5 hrs                 Science                Sept. 3
So, anytime they use a library DVD or online resource, she will continue creating the records.
On the next pages, list field trips and activities:
Location                            Date/Time                                       Subject
Civil War Museum          October 12   2-4 p.m.                  History
City Park                            Sept 5                  PE/Back to school party (dodgeball & tag)
Soccer                                M & Th 6-7:30p; Sat 2 hr games (Aug –  Oct)    PE
Homeschool Art            Tue  10a – 12n    (Aug – May)        Art
Now, you are ready to begin your daily logs:
You will have a log sheet for each of the 180 days you homeschool. Your log book can include your attendance record with a very simple approach. After the day's date, put the # of your school day in parenthesis. That way, you will always know at a glance what day of school you are completing on any given date. When you hit 180 in your daily count, your school year is over!
Here's the way Eve's mom set up her daily log:
Monday – August 1, 2016 (#1)
Language Arts: Daily Grams – complete day #1
                                Red Badge of Courage – read chptr 1
                               Writers in Residence – see the daily schedule on p. xliv and complete day #1
Pre-Algebra:  All of section 1 & 2 on p.3; do every other problem on p. 4
Science:  read Pp. 4 – 9. We will look at the teacher guide together and plan the rest of the week together.
History:  Read Abraham Lincoln's World Pp. ix – 21
PE: practice from 6 – 7:30p
This no frills approach to keeping your homeschool journal or plan book is a great method for folks who are new to homeschooling or who need a cost effective approach. A simple, DIY homeschool journal is not as easy to set up as you think and allows easy tracking for your attendance days as well.