If you've ever seen one of the extreme prepper shows, you know prepping for high school can seem much the same. The territory seems extreme, foreign, and just a bit – o.k., a whole lot – beyond your reach.
Junior high parents who are prepping to homeschool in high school often feel as though they are getting ready to fall off a cliff of uncertainty. I get it. I do.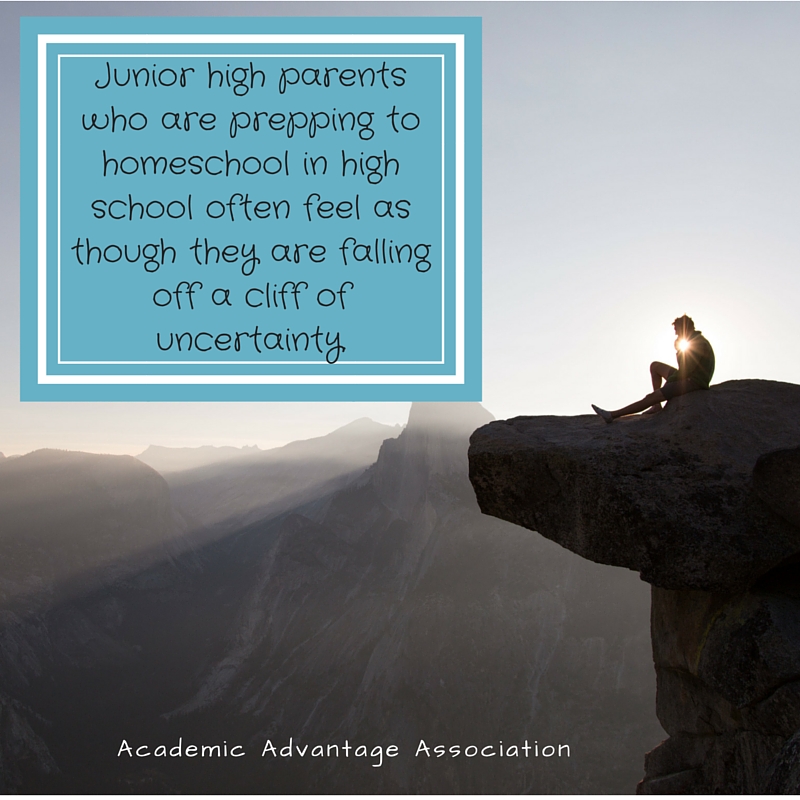 You have awakened with a rapid heartbeat and clammy PJ's. A tiny scream is caught in your throat. You've been dreaming about being ill-prepared for your junior high student's academic career. You have realized with a sinking thud that high school is just around the corner.
G.U.L.P. Things are about to get serious up in your house.
Your head is a-whirl with the idea that you cannot keep on with life as usual. No more park days. No more field trips. No more PJ days. It's time to scramble to make up for every lost day you've let slip by since pre-K days.
Well, know what I have to say to that?
Here's your brown paper bag. Hold it to your mouth and nose and breathe deeply. Deeeeeeeeeply! In about six years you are going to wonder what all the fuss was about. Yes, I promise.
Look behind you. Yes, go on. Look at all the years that are trailing along behind you. Did you break that 7th grader yet? Guess what? You aren't going to break them now either.
Homeschooling is a lot like riding a bike. Remember the days you were on training wheels. Then, someone ran along beside you while you wobbled around without them.
You got brave enough to ride around the block alone, maybe taking out the neighbor's hedges and skinning a knee and elbow along the way. Before you knew it, you were saying, "Look, Mom!" as you rode without hands.
The early years of homeschooling have been your boot camp for what is coming next. Little by little, you and God have worked together to get you to the edge of this exciting new cliff. And, I admit, it does seem a lot like a cliffhanger.
Remember when your K5'er was using that cute little antique desk you got at a garage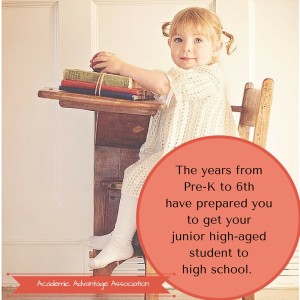 sale to show how many ways his body could bend, twist, and wrap like a piece of Playdough?
Didn't 6th grade seem just as unattainable then? Now look at you! You made it. You really, really made it.
Homeschooling is a skill just like any other you have developed over the course of your life. Scripture promises:
Phillipians 1:6 (Amplified Bible)
I am convinced and confident of this very thing, that He who has begun a good work in you will [continue to] perfect and complete it until the day of Christ Jesus [the time of His return].
So, today, take a minute and rejoice over the equipping you have been granted over the previous years of homeschooling. Celebrate your successes, and begin to take stock of your strengths. Be honest with yourself about your weaknesses.
Ask the Lord to show you how both of those will work together for the good of your student. Commit what you are doing to him. Listen for his voice as you plan. Be ready to follow his lead if he tweaks something you have planned.
You can do this if it is what he has burned in your heart to do. And yes, you can do it even if it's hard and uncomfortable and scary.
Why don't you tell us your biggest fear in the comments below? If it seems too personal, email us. We can share it anonymously on your behalf. I bet big money, someone else needs to know they are not alone in their fear.
Be kind to yourself and your kids today. You deserve it! See you soon.
Image  of cliff sitter by Jordan McQueen courtesy of Unsplash.
Image of school desk courtesy of Pixaby.