Are you a panicky junior high mom who feels high school breathing down your neck? Rest assured, you are not the only mom with questions and uncertainties keeping you awake at night. One concern we often hear is, "May I award high school credits during junior high?"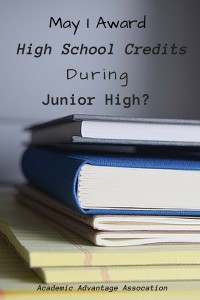 In South Carolina, junior high students may be awarded high school credit for core academic courses including English, math, science, history, foreign language, and computer keyboarding/applications. The curriculum used must be 9th grade material.
When a student completes a 9th grade core course in junior high, the course is considered to meet 'honors' level requirements. Upon successful completion of the course, the student will receive the corresponding extra .5 credit on the GPA for that class.
So, for example, a student taking Spanish I in 8th grade who receives a final score of 95 will receive a 4.75 GPA for that course. Had the course been taken in 9th grade without opting for an honors level class, they same student would receive only the standard 4.25.
When completing core academics, the guiding principle for determining credit is successful completion of at least 80% of a high school level text.
In situations where one may pull from a variety of resources to create courses (ie using living history books for American History, etc.), a combination of 150 hours of instruction and related activity in that course would equal a full credit. Again, the work must be equal to what would be required of a high school student.
Track hours spent in instruction time with teaching adults, independent reading, and completion of related projects, research papers, or field trips. Upon completion of 75 hours, you may award 0.5 credits. Upon completion of 150 hours, you may award a full course credit.
Keep these ideas in mind as you plan your junior high experience. Any credit earned now will free up time during high school!
Have more questions than answers? Member families may contact us Monday – Friday from 10a to 5p. Give us a call (864-968-1118) or email us! If we are not available to assist you, leave a message. We return calls between 1:30p and 4:30p and try to return calls (and emails) within 24 hours of receipt.
Not a member? Join now!
***If you live outside the state of South Carolina, please consult your local state guidelines for more definitive information about timelines for assigning high school credits.