Are you like me? Did you think your season as a teacher would end by 7th grade when you'd turn homeschooling over to 'the experts'?
Unbelievably, you wrapped up 6th grade with a sense of, "What we are doing doesn't seem to be broken, so why fix it [by sending kids to traditional school]?"
Now here you are with a sense of awe, wonder, and a little panic thrown into the mix because you made it.
YOU. MADE. IT!!! Oh! MY!
You made it to high school, and now college is breathing down your neck.
Who in the world did you think you were — thinking you could get your kid across the graduation stage, diploma in hand?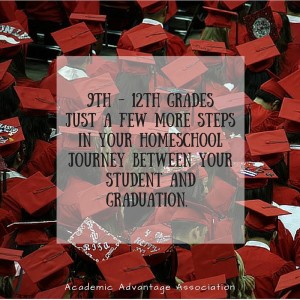 If you are thinking and feeling these things as you stumbled upon this page, don't feel alone and isolated.
Here at Academic Advantage Association, our phone rings many times a year because lots of folks feel just like you are feeing right now.
In truth, there are many factors to consider as you weigh what is best for your family during the high school years. As our site grows, we will provide wide-ranging information we hope will be a first aid kit for your soul. So, grab a paper bag, breathe deeply, and give yourself a vote of confidence.
You've done a great job so far. High school may seem like a huge learning curve thrown at you just when you felt you had your act all together. It's just a matter of breaking the journey down into simpler steps and goals.
Before you know it, you'll be doing just what you do now with folks who are new to homeschooling. You'll be telling folks who are about to start their high school journey that it is a lot like homeschooling in the younger years, and they can do it too!
One of our favorite resources to use as a road map for high school is Homeschool, High School and Beyond.